B2B volumes are continuing to increase following the pandemic, with more businesses resorting to non-paper-based payments. There were 1.4 billion B2B payments, an increase of 18.7% from the same time in 2020(Source NACHA). While there is speculation about how instant payments will displace ACH, many banks are looking at making the most of ACH volumes by modernizing their payment infrastructure to cope up with the unprecedented volumes.
While life is chugging back to normalcy in the post-pandemic world, payment modality changes are expected to be lasting. With business and retail customers accustomed to the neo-normal, payments are no exception.
The modern ACH network is thriving with Same-day ACH flourishing in volume and value, as the numbers speak for themselves. Conducive operational hours and limits made it the preferred choice for a lot of stimulus payments that went out as assistance to individuals, homes, businesses, and hospitals last year. Same-day B2B payment and dollar volumes also grew robustly, increasing by nearly 120% and 160% respectively, compared to the same quarter in 2020.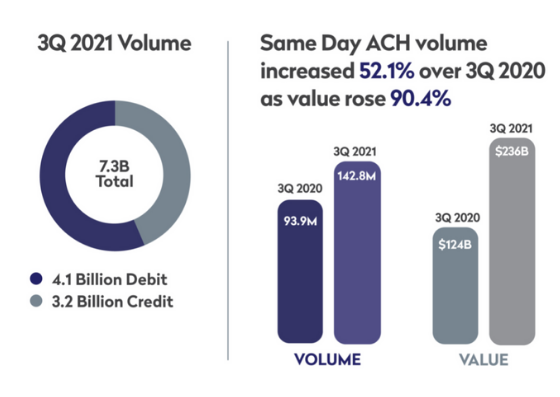 Source: NACHA
A seasoned banker who recently implemented payments modernization at her bank commented:
"When you are speaking about a tech stack modernization, it's not just the payment infrastructure that you modernize. Looking at the whole business model and making it more agile is what differentiates banks and makes them more successful in the payments regime."
We can see this trend with the forward-thinking banks - using the opportunity of real-time payments adoption to overhaul their payment infrastructure, including disparate ACH systems, which are certainly here to stay.