Recently, in a move towards paper-free payments, Microsoft announced that it no longer supports check payments from its partners. It is making it mandatory for partners to pay them through ACH or wires. The manual, cumbersome and error-prone check processing is making it the less preferred method for banks who are moving towards a sophisticated end-to-end digital payments and businesses who demand convenience and speed of payment.
The trend in the volume of checks handled by the Federal Reserve talks for itself, showing a gradual decline of checks. Source of data: FRB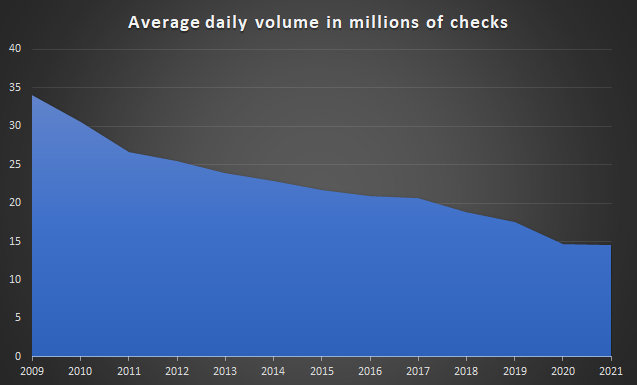 Fraud is certainly a deterrent for check usage and continues to be on the rise. According to a JPMC research, two-thirds of the organizations were prey to check fraud in 2021. Several other factors including the massive shift to digital payments post pandemic are influencing B2B payment modernization.
Real-time payments in, checks out
In countries where instant payments have been operational, comfortable limits and ubiquity attract businesses to take advantage of the fast and convenient schemes, displacing checks from the system.
A recent study by Lipis Advisors shows that 81% of businesses expect real-time payments to dramatically transform the way they conduct their day-to-day business, and 66% expect that real-time payments will eventually displace paper checks and cash.
Perceived as a high-cost instrument, the insignificant cost to process real-time payments is forcing the slow exodus of this instrument. Netherlands has not seen a check in years! According to Deloitte, the cost of processing real-time payments is about USD 1.95 for 10 transactions per capita and this is significantly less than checks, in particular, at USD 2.79. Real-time payments outdo checks in the time taken from payment authorization and initiation to settlement and posting.
The payments ecosystem is increasingly powered by APIs in an embedded world. Paper checks are a misfit with younger and promising methods like instant payments, digital wallets, Request for Pay, which bypass checks on speed, convenience, and cost for both the consumers and the banks.
The Business Payments Coalition's initiatives to create exchange frameworks to create more efficiency and modernize B2B payments is a great push for organizations like Microsoft to spearhead new concepts like e-invoices through the exchange framework.
In a world that's moving at superspeed, many banks are left behind with the processes of taking photos and using fax machines for checks. Microsoft's move to stop checks is the new direction to resist the slow speed of payments that leads to less cash flow, with money being locked in unnecessary vacuums in the system, created by process inefficiencies, resulting in cashflow issues for consumers and businesses.