The platform invasion is calling for a move from traditional, linear, off-the-shelf offering of financial services to an innovative, connected coexistence of different players. This calls for a flexible, component-based composable toolkit that can quickly assemble products and make connections to meet the trends in the ecosystem.
Starting with the simplest provision – open APIs for data exchange, banks are embedding third party products and adapting to business models that help them get embedded into other third party products. Some of the mature players are supporting specific needs through segment-specific platforms like auto finance lending, SMB financing and more.
What is platform banking?
Banks have always been a producer of goods and services. However, in an economy where there is real benefit with a platform-based architecture where consumers, instead of consuming through a linear banking model, have the choice of confidently acquiring financial services from a connected group of players on platforms. Digital platforms serve as enablers acting as a 'bridge' between the end customers and the providers of financial products and
services.
Moving from linear to connected banking
Banks, in the recent past have reinvented their roles and are increasingly becoming platforms for financial transactions. Using the "plug-and-play" infrastructure of platforms, primary producers, consumers and third-party producers can connect with each other using secure sharing and exchange of data. The experience is enhanced through authentication and authorization of data, increasing governance and trust among different participants.
How are banks preparing?
Banks are waking up to the imperative of participating in the platform economy by:
using unbundled banking services, often in the form of microservices, to assemble their products and offerings in a flexible way
using flexible operating systems which allow banks to plug and play micro-services into the new architecture
becoming sponsor banks to fintechs and non-financial service providers to make use of the platform economy
How can bank participate in the platform economy?
There is no one size fits all participation model for banks in the platform economy. The business model of banks can be altered to offer their products, platforms or services as part of the wider ecosystem through different models. Banks can host their own platforms, or participate as players in platform hosted by non-financial service providers like travel booking platforms and automobile dealers. However, there is a lot of buzz with the big tech providers like Google and Apple tying with banks to sell financial services from banks alongside their products like Google Pay and Apple wallet.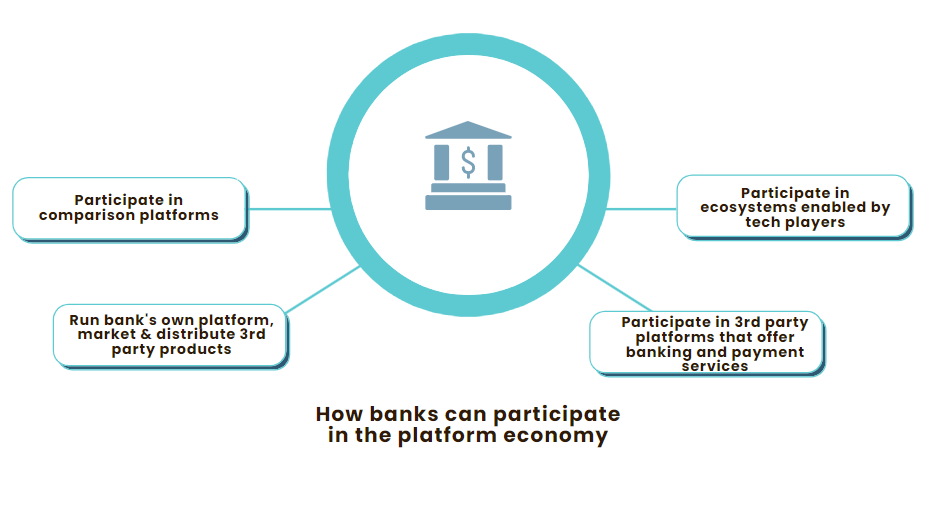 What are other accelerators?
With open banking making strides in many parts of the world, consumers can consent to the use of their personal data and can access better deals and services. This calls for banks to rethink their linear models and prepare to offer their services in a connected network, competing with other providers.
By supporting instant payments, platforms transform into magnetic substrates to more consumers, thus increasing payment transactions on the sponsor banks.
Hardwearing transformation
Transformation of some sort is underway at most banks in response to the platform flux. However, many banks continue to make impulsive and myopic decisions for transformation. A strong play in the connected banking landscape needs a vision beyond digitization – adapting business models to the new needs. Paolo Sironi, the author of a best-seller on platform banking, recently commented in an interview:
The focus is not about digitizing existing operating models and offers. The focus is about updating the business models and the ways of working with the help of technology.
After all, the platform effect has already proliferated into financial services, calling for radical and quick transformation to bank business models.