The SVB crisis has resurfaced discussions about the readiness of banks to prevent wire frauds. Every manual touchpoint in the processing of wires introduces an element of risk of fraud, prompting financial institutions to seek more efficient ways to automate wire processing through modern end-to-end capable systems.
There's been a notable surge in both value and volume on the Fedwire network, with March 2023 seeing a monthly growth of over 25% in volume and 27.3% in value. However, where fraud mitigation is not in place at banks, wire transfers remain a significant avenue for money laundering, creating economic vulnerabilities for banks. As a result, banks are dedicating more transformation initiatives towards modernizing their wire systems to eliminate unnecessary manual touchpoints and increase automation, thereby improving straight-through processing (STP) rates and minimizing the risk of fraud. Nevertheless, there are certain features in the Fedwire processing system that can effectively mitigate these risks.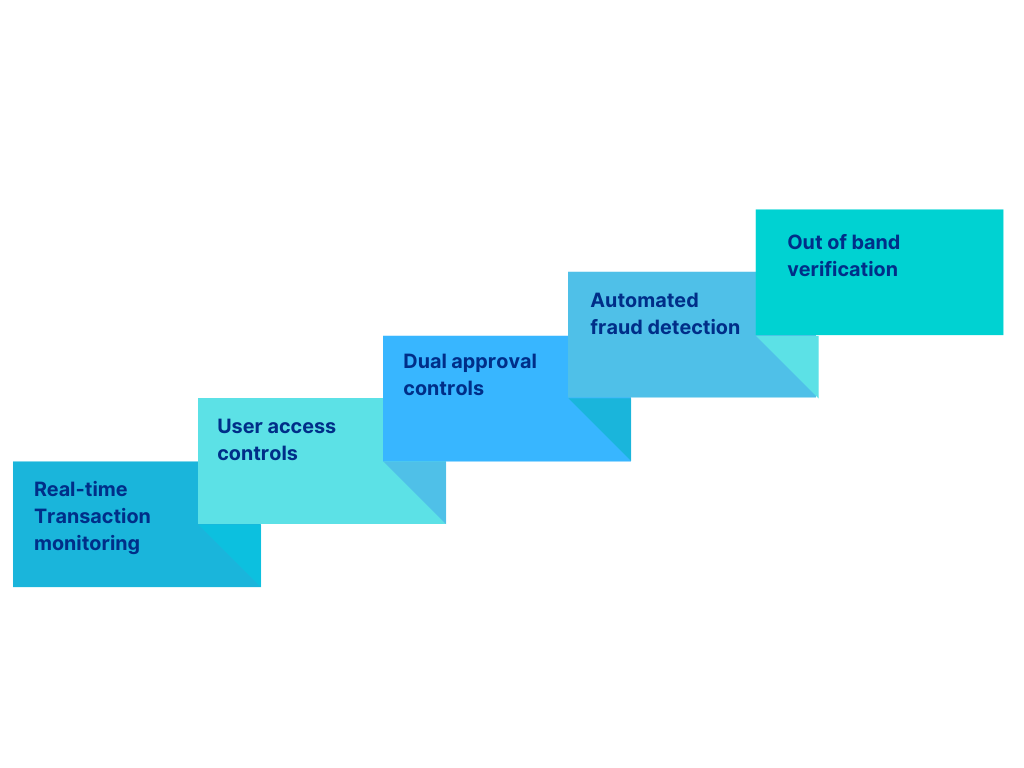 Some of these features include:
Transaction monitoring:

Any unusual or suspicious activity such as transfers to sanctioned countries or transfers that deviate from the customer's usual transaction patterns must be flagged. Transactions exceeding certain limits and those involving customers with a history of suspicious activity also need monitoring.

User access controls:

Strong user access controls are essential for preventing wire fraud. This includes implementing multi-factor authentication and role-based access, as well as allowing for easy configuration of these controls in the back office. The system should also maintain an audit trail, logging user activity and granting access only to authorized personnel. With modern Fedwire solutions, field-level auditing capabilities for each transaction are available, making it easier to conduct audits as needed.

Dual control and segregation of duties:

Fedwire systems should require dual control processes that require two or more authorized personnel to approve any Fedwire transfer. Drawdown requests can also go through multiple approvals allowing users to review and approve or reject the decision before honoring drawdown wires.

Automated fraud detection:

Fraud detection using AI and ML to prevent and identify fraudulent transfers is critical. These systems can be built into the wire payment processing flow at the appropriate points using API integrations so that the processing includes fraud detection as part of the payments workflow.

Out-of-band verification:

Fedwire systems should require an out-of-band verification process for any high-value or unusual transfers. This can include additional confirmations through other channels like a phone call to confirm the transfer details with the customer. Modern solutions provide callback feature and OTP requests as part of the Fedwire workflows to take care of these verifications.
"As wire fraud becomes an increasingly complex issue for financial institutions, it is imperative to adopt modern solutions that can effectively combat these threats. Finzly's built-in capabilities and their integrations to cutting-edge fraud management systems enable banks to stay ahead of the curve and keep fraudulent wire transfers at bay"

Vijay Vardhan, Head of Products at Finzly
The sunset of the existing proprietary Fedwire Application Interface Manual (FAIM) format messages and the corresponding replacement with equivalent ISO 20022 message format will take place in a single-day implementation strategy on March 10, 2025. In addition to improving the processing capabilities of wire transfers, the new enriched format is also expected to help banks and other organizations in meeting their obligations related to anti-money laundering measures and sanctions. As banks explore modernizing their Fedwire solutions in anticipation of ISO20022 migration, it is imperative to consider these criteria when evaluating options. By ensuring that their Fedwire systems have these key features, banks can more effectively control fraud and reduce the risk of fraudulent transfers.