Finzly has been recognized for exceptional human resource practices and an impressive commitment to their employees
Charlotte, N.C. June 27th, 2022 — Finzly has been named "2022 Best and Brightest Company to Work For" by the National Association for Business Resources (NABR). This national award identifies and honors companies that deliver exceptional human resource practices and an impressive commitment to their employees. This year, the Best and Brightest program honored 19 winning organizations from Charlotte, Denver, Miami, and Nashville out of 100 nominations.
The winning companies were assessed by an independent research firm which reviewed a number of key measures relative to other nationally recognized winners. Participants' practices were benchmarked against other participants in their region and across the nation. Companies were scored on different categories measuring various aspects of employee engagement and culture.
The categories that the companies were scored include: Compensation, Benefits and Employee Solutions; Creative, Wellness and Wellbeing Solutions; Employee Enrichment, Engagement and Retention; Employee Education and Development; Recruitment and Selection; Employee Achievement and Recognition; Communications and Shared Vision; Diversity, Equity and Inclusion; Work-Life Blend; Community Initiatives and Corporate Responsibility; and Leadership, Strategy and Company Performance.
Some categories where Finzly scored exceptionally include Employee Achievement and Recognition; Culture; and Diversity, Equity, and Inclusion.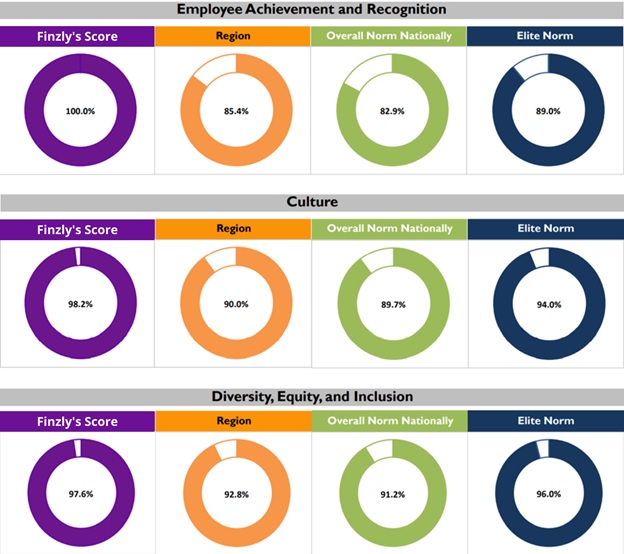 Finzly is committed to not only building a world-class product for their customers, but also an excellent work environment and a promising future for their employees. Being named a "2022 Best and Brightest Company to Work For" is a significant milestone for us as we continue to build an innovative and inclusive culture for our employees and community.

Aarthie Ramachandran, VP – Operations at Finzly
"These 2022 winning organizations have stood out during unpredictable times and have proven they are an employer of choice. They continue to keep the needs of their employees first and provide perks that include development, wellbeing, work-life balance, rewards and recognition. In addition, these winning companies offer a fantastic work culture and workplace environment that attracts and retains superior employees", said Jennifer Kluge, President and CEO of NABR and The Best and Brightest Program.

About the Best and Brightest Programs: The Best and Brightest Companies to Work For® competition identifies and honors organizations that display a commitment to excellence in operations and employee enrichment that lead to increased productivity and financial performance. This competition scores potential winners based on regional data of company performance and a set standard across the nation. This national program celebrates those companies that are making better business, creating richer lives and building a stronger community as a whole. There are numerous regional celebrations throughout the country, such as Atlanta, Boston, Chicago, Dallas, Detroit, Grand Rapids, Houston, Milwaukee, San Diego, San Francisco, Miami, New York, Charlotte, Denver, Nashville, and Pacific Northwest. Nominations are now being accepted for all programs. Visit thebestandbrightest.com to nominate your organization.
About Finzly: Finzly provides the financial infrastructure for Banks, Fintechs, and Businesses to offer and access financial services in an open, connected, real-time, and embedded ecosystem. Finzly's operating system for banks acts as a parallel core platform and is modern, cloud-based, real-time, and API enabled. With an array of readymade banking solutions including a multi-rail payment hub (ACH, Fedwire, RTP, FedNow, and SWIFT), foreign exchange, Digital Account Opening, KYC, Risk, Compliance, and a suite of customer experience components, Finzly allows the building of programmable banks, also offering a platform to launch Banking as a Service to fintech partners. To learn more, visit http://www.finzly.com