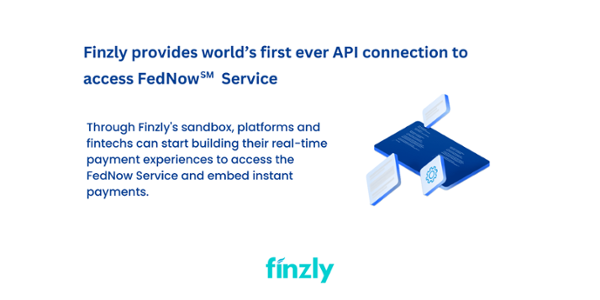 Through a sandbox provided by Finzly, platforms and fintechs can start building their real-time payment experiences to access the FedNow Service and embed instant payments.
Finzly, a pioneer in banking and payment technology, and a pilot participant in the FedNow Service, announced today, that developers from platforms, fintechs and banks can access the sandbox environment that connects to the pilot version of the instant payment platform through Finzly API.
The FedNow Service is a new instant payment platform the Federal Reserve Banks are launching in 2023 to provide financial institutions of every size, and in any location across the nation, access to safe and efficient instant payment services in real-time, 24 hours a day.
Expected to launch between May and July this year, the much-awaited payment rail can power innovative use cases across different industries. In a competitive payments landscape, instant payments are a great differentiator for the ecosystem players. Bills and invoicing can be simplified using the service's request for payment (RFP) feature, while immediate acknowledgments, requests for information, and requests for the return of funds together provide an exceptional payment experience.
By using the Finzly API on its sandbox environment, fintechs and financial institutions that want to embed the FedNow Service in their platforms, apps or digital banking experience can build and test applications to transact on the service. This will allow developers to send instant payments and get immediate updates on received or returned payments.
"The future of the economy is connected and real-time. Insurance payouts, government benefits, healthcare payments, online commerce, subscriptions, point of sale, investment, lending, treasury, and several other platforms are expected to connect to the new FedNow Service for an integrated, cardless, bank-to-bank, instant payment experience," said Booshan Rengachari, founder and CEO of Finzly. "Finzly APIs and its direct connection to the FedNow service will accelerate the adoption of instant payments in several use cases. We are excited about being the world's first player to offer access to FedNow service via an API."
Finzly offers a single API that connects with all payment rails in the U.S., including Fed ACH, Fedwire, RTP, the FedNow Service and SWIFT. Platforms, fintechs and financial institutions who want to access, experiment and experience any of the payment rails through Finzly's sandbox must go through an approval process before gaining access by filling out a form here.
https://finzly.com/fednow-api-access

"Finzly APIs and its direct connection to the FedNow service will accelerate the adoption of instant payments in several use cases. We are excited about being the world's first player to offer access to FedNow service via an API."

Booshan Rengachari, CEO - Finzly
Source: Cision PRWeb
https://www.prweb.com/releases/finzly_releases_worlds_first_ever_api_connection_to_access_fednowsm_service_the_new_u_s_instant_payment_rail/prweb19158699.htm