The world of open innovation demands that ecosystem players come together – to share experience, skill, and expertise to the benefit of the wider ecosystem. Banks are increasingly assuming different business models to bring innovation outside the walls of their traditional monuments into the open and level-playing field of innovation. Well, at the outset, this resembles the concept of outsourcing. But the cross-pollination goes beyond just meeting the banks' functional needs.
In today's world, open innovation practices in financial services are widely spearheaded by banks that have invested in technology, strategic leadership for innovation, and above all, garnered a deep understanding of their customer needs. Leveraging their high level of maturity in serving their customers, they are now focused on optimizing customer experience through collaboration and open innovation.
Innovation travels to the point of consumption through customer experiences that embed the novelty into products and services provided to the end customer. Broadly speaking, innovation has 3 phases:
Ideation – the discovery of the need to innovate
Dissemination – taking the innovation from research units to the marketplace
Absorption – embedding innovation into customer experiences
It is interesting to note that banks are creating an open innovation infrastructure that can traverse all these 3 pillars – Ideation, Dissemination and Absorption of innovation.
While many banks support incremental innovation as more of a reaction, there are only a few that strategically support revolutionary and disruptive innovation. Disruptive innovations create new value propositions needing new business models like "as a Service" to anchor open innovation. While the returns are insignificant in the beginning, the collective yield of open innovation is phenomenal. New business models, many supported by sponsor banks are creating new ways of value creation, democratizing financial services.
Open Innovation at Société Générale
Open innovation is managed through a carefully designed to foster innovation at Société Générale. We spoke to François Caron, Group Innovation Market Intelligence team leader from Société Générale to discuss how the bank supports open innovation.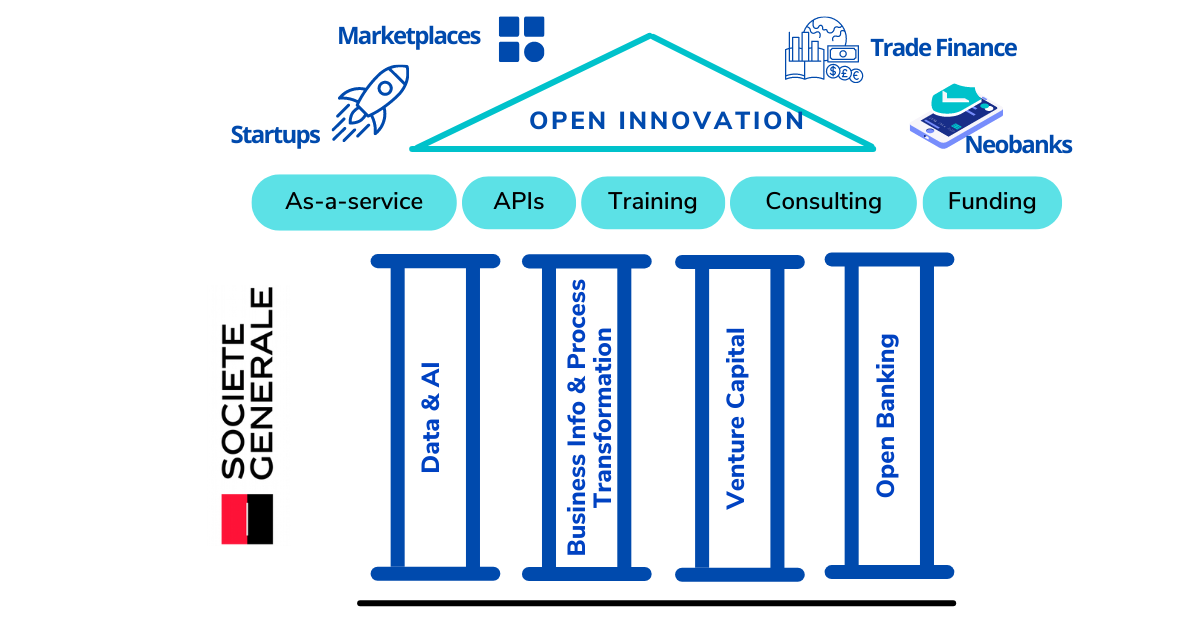 To look at innovation as a new capacity to create value and wealth in the market, the bank has forty devoted employees who work on 4 different streams.
Data and AI
Business Information and Process Transformation
Venture Capital
Open Banking
Data experts at the bank study the data in terms of their application to innovative use cases, how and where use cases can be replicated, using data to manage risk and fraud, and to monetize data without compromising on data security. Data serves as a cradle of value creation and innovation alongside AI, spawning use cases that would've otherwise not been perceived.
A large community of digital leaders across transaction banking, retail and commercial banking, equipment lending provides the expertise needed to ideate and support innovation through optimal and efficient business processes. This initiative helps the bank to effectively digitalize the bank's offering in line with the voice of the customer. Areas like Trade Finance where digitalization is scattered and in silos are seeing a lot of buzz and uptake of these services.
The 3rd stream supports innovation through investments that can generate value through partnerships. The open innovation mindset of this group nurtures the development of solutions that specifically cater to the need of the customers of the bank – whether it is a neobank, a PSP, an insurtech provider or employing trending technology in smart contracts, digital assets, and tokenization. The bank helps many businesses expand globally by virtue of the bank's widespread geographical footprint.
The 4th stream works on providing the democratization of data as part of open banking. Data sharing is leveraged in financial advisory, robot advisors, data-driven lending, and transaction banking. In tandem with consulting firms like McKinsey and industry thought leadership through event participation, the bank keeps abreast of the developments in regulation, while using marketing intelligence to stay well-informed of trends like CBDCs, payments, crypto etc.
"We have a large community of what we call digital leaders in the group. As a group innovation team, we coordinate the relationship with external incubators. We want to be part of financing the economy, which is key, which is the core role for the bank. As wanted by the public authorities, the banking system has the responsibility to finance innovation. Examples are shine which is an SME neobank in the French market or Treezor, a PSP, notably for marketplace coverage center on startups."
Going beyond the boundaries of traditional banking, into a landscape where knowledge and collaboration is the pathway to the market is an imperative in the new paradigm shift to "openness". Open platforms like FinzlyOS can be a great cradle for open innovation. Get in touch with our experts at connect@finzly.com