The value of Same Day ACH payments touched $478.5 billion in Q3 2022. This corresponds to a 102.7% rise from a year ago.
Ever since the Faster Payments Task Force set the stage for "faster payments" in 2015, many automated electronic payment solutions have gained ground. The surge of digital payments brought about by the pandemic has been a major contributor to the phenomenal increase in the growth of Same Day ACH. However, the trend is here to stay as can be seen by an impressive growth, quarter after quarter, especially for business payments.
Faster access to wages, same day remittance of tax payments, faster payment of invoices and bills, insurance claim payments, P2P and A2A payments moving funds between different financial institutions are some of the most common use cases for Same Day ACH.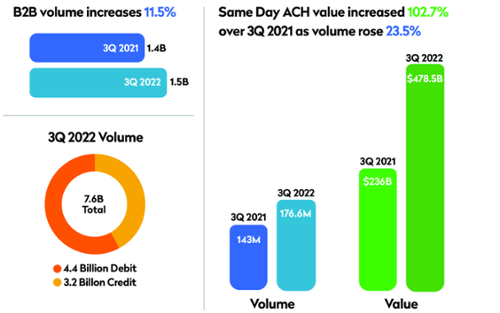 Source: NACHA
What are the main contributing factors for this remarkable growth?
Speed of settlement
With four same-day settlement windows, financial institutions can settle three times each day. This gives the speed of sending and receiving payments faster, for consumers, governments and businesses. Businesses are increasingly taking advantage of this settlement speed compared to the typical turnaround of 1-3 business days for a traditional ACH payment.
Ubiquity
Originators can send Same Day ACH to any financial institution in the US as all banks and CUs across the country are required to receive Same Day ACH transactions. Ubiquity through regulatory mandate is key to the success of Same Day ACH. Afterall an adoption by 50% of senders and 50% of receivers will only result in 25% of potential transactions. The EU's recent proposal to make instant payments mandatory across banks in the EU and EEA will foster innovation through ubiquity.
Limits
New use cases are now supported by the new per payment limit for Same Day ACH credits and debits. Earlier in March this year, the per payment maximum increased from $100,000 to $1 million. This has been accompanied by a steep increase in the value of payments moved through the network. B2B payment use cases including vendor and supplier payments, claims settlements for insurance, tax payments, and payroll funding are use cases that are effectively taking advantage of the new limit. For instance, the earlier limit of $100,000 was impeding debit transactions like payroll funding.
Does the underlying technology make a difference for Same Day ACH?
Yes, it certainly does. Although it is an assumption that Same Day ACH doesn't need any additional technology investments, as more businesses want to take advantage of Same Day ACH, seamless support to their origination channels, including APIs, self-service customer portals and customer experience investment becomes critical.
"Same Day ACH through FinzlyOS is a straight-through process from the bank's customers via API or bulk file upload to the Fed. With the freedom to configure limits and permissions, banks can use the latest technology to send real-time notifications via webhook API, notification to SFTP location or through an email. Within minutes a payment can be submitted, sent and notification sent. Bankers benefit from the ability to see the files submitted by the customers and view the raw data format. Appropriate notifications can be sent to the bank users with the status of the compliance screening outcome. Using the intelligence of the smart routing capabilities of the Payment Hub, payments can be routed through different rails based on the urgency and limits," commented Tiffany Garrett, ACH expert and Payments Specialist at Finzly.
With the perfect concoction of speed, limits and ubiquity, Same Day ACH is expected to complement and stay alongside instant payments in future.