Open banking is a new precedent to acquire customers and grow the existing customer base for banks. Banks are rethinking existing business models and leveraging third-party collaborations to innovate at speed. Certainly, it is a catalyst for business model innovation to promise ubiquity in financial products and services. In response to the global impetus on open-banking, US banks are preparing technically and conceptually, tending towards API-driven technology that can layer on top of core banking systems, while revamping their position in the ecosystem.
Looking for outside help to enable fintech partnerships
Enabling fintech partnerships using API-bereft legacy cores are leaving banks at doldrums. A recent report from The Digital Banking Report showed that banks are less likely to use their existing core providers to enable fintech partnerships.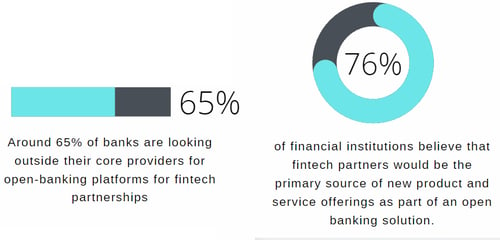 Around 65% of banks are looking outside their core providers for open-banking platforms for fintech partnerships

76% of financial institutions believe that fintech partners would be the primary source of new product and service offerings as part of an open banking solution.
This is where API-rich alternative cores like Finzly's BankOS come in handy. They do the job of enabling fintech partnerships through modular APIs, additionally offering other useful features like FBO accounts, making fintech partnerships easy and scalable.