Every discussion on the launch of RTP and FedNow touches on the displacement of other payment types including the dominance of cards in the US market. But, is the market just yet ripe to break the duopoly of Visa and Mastercard?
Mastercard has launched a virtual card solution that can authorize immediate payments to suppliers on invoice submission. Using machine learning to authorize payments on the same day they're received, digital payments are sent directly to the supplier's bank account via a Mastercard virtual card, with no manual intervention.
Technology-led shifts for the new landscape
The card industry is changing in order to avoid the possible displacement by alternative payment methods. Technology-led capabilities are preparing Mastercard and Visa to respond to the changing landscape in payments.
Their duopoly is seeing resentment in Europe, with Europe's largest banks trying to dislodge them with an effort to build a new pan-European payments network that could challenge the dominance of Visa and Mastercard across the continent. However, the duo are catching up to equal the speed and convenience of instant payments through products like Visa Direct and this new instant payment offering from Mastercard.
Can RTP and FedNow match up to this?
Certainly yes - using the Request for Payment that is offered by both RTP and FedNow. As RTP supports "Push only", debits are not supported in instant payments. This is addressed by sending an invoice in the form of a request. The payment will be a response to this request, and this can be the basis for several use cases around purchase orders, enabling straight-through processing of receivables for invoicing.
The rich remittance information and standards provided by the ISO20022 format supports the automation of e-remittance information. A sample RFP initiated by a Gym to one of its customers and the interface to respond to the bill is shown below: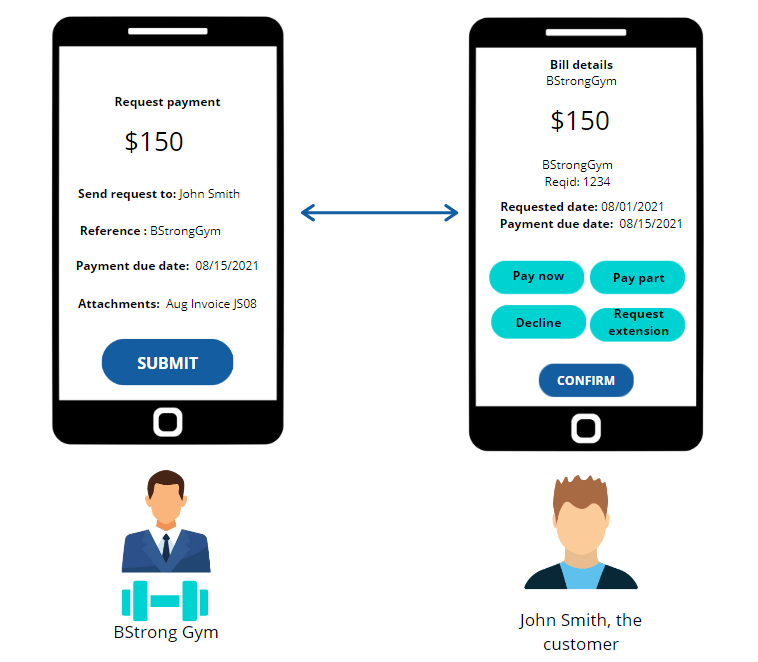 RFPs can also be used for use cases relating to regular utility bills, charitable donations, retail payments or payments between individuals.
A peace deal in the making?
The battle of the rails will continue until instant payments become a norm - until then card schemes and instant payments will cohabit. With the promise to improve account-to-account transactions(A2A), they will prosper in specific use cases that can see immediate value to their end customers.
After all, as long as they both offer value and choice, no winner takes it all!
Is your bank willing to offer Request for Pay through RTP or FedNow?
Talk to us today.