As open banking continues to evolve worldwide, alternative payment methods, especially the "Pay by Bank" concept, are becoming central to the landscape. These payment options are swiftly finding their way into diverse sectors, spanning open finance, open energy, open education, open health, open travel, and virtually every facet of both business and consumer life.
With this sweeping transformation, customers are enjoying improved experiences, while payees across numerous industries are appreciating a broader range of choices to get paid.
Several factors are driving the adoption of "Pay by Bank" in various scenarios, with a few particularly noteworthy:
1. Escaping the grip of credit card fees:
The increase in credit card fees by industry titans such as Mastercard and Visa presents a compelling opportunity for merchants and businesses. They can substantially reduce their processing costs by embracing account-to-account payments through alternative bank payment rails like ACH, FedNow, and RTP. This significant shift empowers businesses to chart a more cost-effective path forward, with reduced fraud and chargebacks.
2. The rise of real-time payments:
As financial institutions increasingly enable instant payment transfers through robust networks like RTP and FedNow, the traditional "end-of-the-day" processes are gracefully bowing out. Instead, real-time payments and frequent processing windows like Same Day ACH are taking center stage. This transformation is not just a preference; in many other geographies, it's becoming the default natural choice for both consumers and businesses alike, exemplifying the speed and efficiency that modern transactions demand.
3. Rewarding Payee Choice:
Picture this scenario: At the checkout of a hotel booking platform, what if you could earn reward points, redeemable for your next stay, simply by opting to pay by bank? This enticing concept is permeating into industries such as car rentals, e-com platforms, restaurants, gaming apps, educational institutions and even telecom providers. Telecom giants like T-Mobile, AT&T, and Verizon are offering discounts to customers who opt for debit cards or bank accounts as their preferred payment method. The importance of payee choice, supported by irresistible rewards and incentives, cannot be overstated.
4. Global momentum driven by convenience:
Across the pond in Europe, open banking payments are experiencing an unprecedented surge, underscoring the global momentum behind bank-centric payment methods. This transformation extends even to the public sector, with direct bank-to-bank payments making inroads into areas such as tax payments. Meanwhile, in India, the staggering milestone of over 10 billion payments made through the Unified Payments Interface (UPI) in a single month—August—speaks volumes about the worldwide traction of bank-centric payment solutions.
5. Regional driving forces:
While the United States adopts a market-driven approach to open banking, India's journey is anchored in establishing a robust public payments infrastructure. Australia leans towards "open data," while the United Kingdom's open banking impetus is regulation-driven. The US' market-driven approach will push more practical use cases as open banking emerges.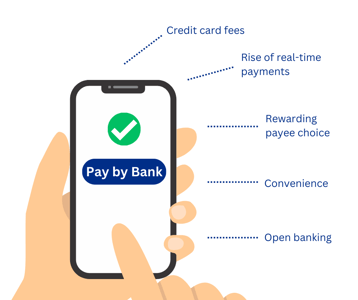 Banks' response to "Pay by bank":
As numerous use cases primarily rely on APIs, banks looking to potentially support the final stage of embedded payments must ensure that their payment infrastructure is accessible to platforms that, in turn, incorporate or provide the "Pay by bank" option. As part of their payment modernization strategies, banks are increasingly adopting the ability to facilitate open banking payments behind the scenes by connecting with ecosystem players through APIs.
In the United States, major banks are already taking proactive steps to offer APIs with the objective of attracting new customers and expanding services for existing enterprise clients. Many banks employ a payment hub to provide a unified API that is agnostic to payment rails, allowing for seamless "Pay by bank" functionality at the point of payment.
Pay by bank is more incentive-driven for the consumer and choice-driven for the business customer. Banks need to leverage the competitive advantage in a market that is swiftly being encroached upon by fintech players. With the promise of enhanced financial inclusivity, payee choice and customer-centric rewards, the rise of "Pay by Bank" heralds a new era in the world of payments.
Interested to know how Finzly can help your financial institution?